Seven Hills of Rome (Sette Colli di Roma) Tours - page 2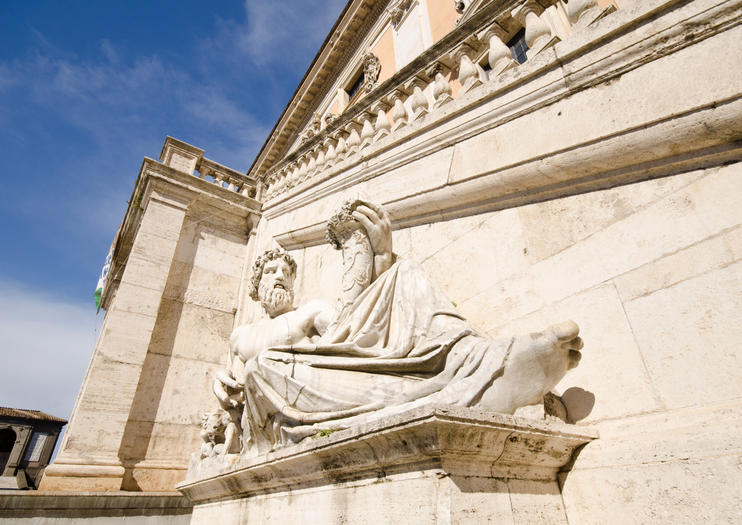 From the site of its foundation to the residence of its head of state, the Seven Hills of Rome (Sette Colli di Roma) are an integral part of the city's historic and cultural identity. Follow Rome's history, from individual communes to its rise to power as an empire until the present-day. Visitors can find traces of the city's storied history in the Seven Hills.
The Basics
Before a city called Rome even existed, the area's marshy valleys and steep hills offered natural protection to the individual communities that eventually united as the population increased. In the fourth century BC, Ancient Rome's Servian walls encircled the Seven Hills. While modern Rome has far outgrown its original limits, the Seven Hills area still serves as the geographic and historic heart of the city.
The hills—prominent in ancient times—can be hard to distinguish amid modern Rome's jumble of buildings, so it's best to visit with a local guide. Touring by Vespa, Italy's famous peppy scooter, is a fun way to see the Seven Hills.
Things to Know Before You Go
The Seven Hills have something for everyone, from Roman ruins for history buffs to sweeping parks for kids.

If you're planning to tour all seven, you'll be outdoors for at least a few hours. Be sure to wear a hat and sunscreen in the summer.

The Seven Hills are in a rather compact area, but still require quite a bit of walking, so wear comfortable shoes.

Some of the sights on the Seven Hills are accessible to wheelchairs while others are not. Confirm in advance if the individual attractions you would like to visit on each hill are accessible.

How to Get There
The hills of Rome are east of the river Tiber, within the walls of the ancient city and covering most of the historic center of Rome. You can walk between the hills, or take the metro to save time.
When to Get There
Touring the Seven Hills requires being outdoors for a long time, so it's best done on a clear day when temperatures are mild.
The Seven Hills
Legend states Romulus founded Rome in the central hill of Palatine, now an archaeological site. The largest Esquiline Hill was a park before becoming the site of Domus Aurea. Aventine Hill has its many temples, Capitoline Hill has Rome's city hall, and Caelian Hill was a fashionable and wealthy district. Quirinal Palace, the Italian head of state's official residence, sits atop Quirinal Hill, which along with Viminal Hill (Viminale) are two of the smallest hills.
Read More
Show Less
30 Tours and Activities to Experience Seven Hills of Rome (Sette Colli di Roma)
---