Albert Memorial Tours - page 2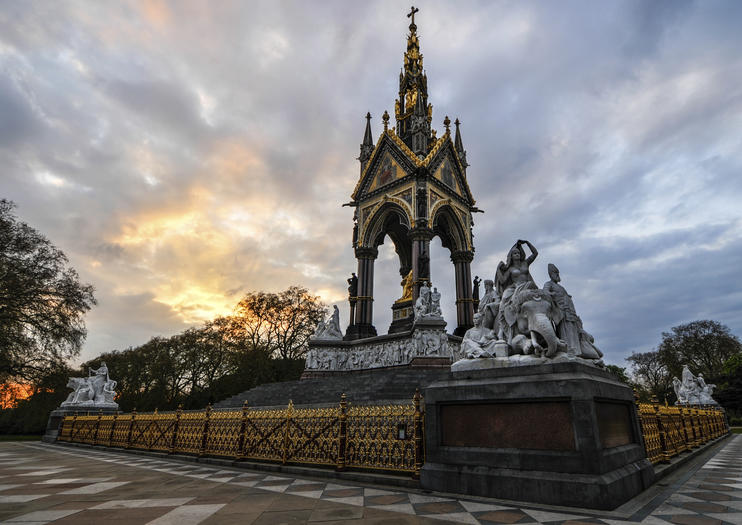 With its ornate spires, elaborate friezes and 53-meter-high central cross, the Albert Memorial surely ranks among London's most impressive monuments, and it's impossible to miss, standing proud over the south entrance to Kensington Gardens, opposite the equally grand Royal Albert Hall.  
Inaugurated by Queen Victoria in 1872, the striking memorial is dedicated to her beloved husband, Prince Albert, whose untimely death of typhoid fever in 1861, at just 42 years old, had left her grief-stricken. Devoted not only to Prince Albert, but to all his passions and achievements, the masterful Gothic design is the work of Sir George Gilbert Scott and features a central gilded statue of Albert, holding the catalogue of the 1851 Great Exhibition. Surrounding statues represent the Prince's main areas of interest - engineering, agriculture, commerce and art, while the intricate frieze at the base of the monument features images of 178 artists, poets and musicians, a further tribute to his love of the arts. 
Practical Info
The Albert Memorial is located in Kensington Gardens, London and is free to visit, although interior access is only possible by pre-booked guided tour. 
Address:
Kensington Gardens, London, United Kingdom W2 2UH, England
Read More
Show Less
25 Tours and Activities to Experience Albert Memorial
Downton Abbey movie location hunt A time-travel back to Edwardian London 3 HOURS – FROM GBP 225 PER CAB Downton Abbey Location Yorkshire may have been the setting for the earlier episodes, but London started to hog the limelight as the show clocked its later innings. Remember Lady Edith's risqué romance with that old smooth-talking magazine editor Michael Gregson? Flashback to the popular scenes set at the city's iconic landmarks. Play guessing games to jog your memory. Buckingham Palace, Lancaster House, Bridgewater House, Belgrave Square, Criterion Restaurant, Ritz Hotel, Piccadilly Circus, Hyde Park, Albert Memorial, Astor House, St. Pancras Station, and these are just for starters. How many could you count? Be bowled over by a few secret locations, including Lord Grantham's London stately home. Our accredited Private Driver Guide happens to be a Downton Abbey fanatic. Brace for non-stop peppy conversation, not crisp commentary.
---
---